What is ISOKURA?
ISOKURA SAKE BREWERY was established in INADA, KASAMA city, IBARAKI JAPAN in 1868.
"Inada" produces beautiful spring water that comes from surrounding mountains through the bedrock.
And, the district of "Inada", which means rice- field, and is also where we are located, has been known as one of the best rice-producing areas in Japan as its name indicates.
There are many granaries known as "KURA" in our yard, we came to be called "ISOKURA" in combination with the family name "ISO".
Blessed with such good rice and water, our ancestors began making sake in the "EDO age" period. Having succeeded in producing of our original sake, called "INASATO" named after the rice-producing village, we started the brewery business.
Water & Rice
"SEKITOSUI Water" (Rock- Filtered Natural Soft Water) is what we use to make our sake.
Inada water is naturally purified by bedrock of granite, which is found throughout our region. The quality of this soft water is extremely good and its quantity is bountiful.
"Local Rice" is a very important element. It is what ISOKURA is based on.
We consider that rice quality is more important than location where it's made and the brand of rice.
However, we know the key elements to our taste, more than anyone else. (The most important elements are "pure starch" and " rich minerals"!)
For that reason, we are growing the rice in the local by ourselves.
ISOKURA Precepts
Five precepts
Our sake should match the customer's emotions and everyday life.
We create people's meeting in sake. And our sake must grow at meeting with people.
Sake is made from rice, so the natural rice aroma and taste is very important.
Made with local rice and loved by local people.
We respect our history and traditions but also pursue new and original tastes.
Ten Rules
1. Local water
2. Local rice
3. Traditional method
4. Taste of rice
5. Natural aroma
6. Natural color
7. Judgment of taste is based upon each individual
8. First local and worldwide
9. Sake is people everyday life
10. There are people, so there is sake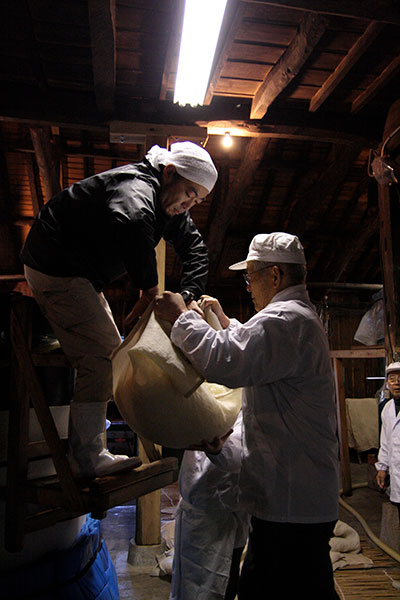 Our Export Policy
We create sake as if we are raising a foster daughter in the family.
We are now preparing to send our "daughter" to foreign country, in the hope that she will find a great match and get married into a loving and caring family.
This is a time of great joy and also worry for us.
Thank you very much my daughters.
Our production capacity is limited by our brewery size.
We considering all possibilities, and we are considering increasing in our production currently for the export market.
If there is demand for more of our sake in foreign country, then there is possibility.
Contact
Phone: +81- (0) 296-74-2002
Fax: +81- (0) 296-74-4815
E-Mail: info@isokura.jp
URL: http://isokura.jp/
Address: 2281-1, Inada, Kasama, Ibaraki, Japan. 309-1635 (google map)
*NOTE"
Inquiries by phone: In Japanese only
Inquiries by Fax or E-mail: In Japanese or English
Brewery Tour Available by Booking Only
Business hours: 9:00-18:00 Open
*If you wish to visit us after hours, please contact us.
Sake Tasting Bar
You can enjoy various kinds of sake we produce by hand at our Sake Tasting Bar!
Retailers or Shipping Overseas
Please feel free to contact us for information about our retailers or shipping our products overseas.